Dear friends,
We hope you are well and had a good weekend. Further to previous notices, here is an update on infection control measures and other activities taking place at the Three Links Care Centre:
Infection Control
Thankfully, Three Links still does not have a confirmed case of COVID-19 but the measures we announced previously here, here, here, here, and here remain in effect until further notice.
Our Leadership Team continues to hold regular briefings, participate in Health Authority teleconferences and practice outbreak protocols. We are also continuing to hold monthly meetings of the Family Advisory and Occupational Health and Safety Committees.
With the addition of a few new staff to our team, we are thankful that we have been able to retain most of our care staff with the new BC policy requiring staff to work at just one care home. We are continuing to monitor the policy's impact closely.
Thank You Support Staff
In our last update, we announced June as Support Service month at Three Links. As we did in May with our excellent nursing team, we presented Long Service Awards to staff members celebrating special anniversaries in 2020.
We have also placed a special ad in the local newspaper celebrating the support service teams courage and commitment during the current COVID 19 pandemic. Thank you!!
Art and Music Therapy Services Returning
With the parameters established by the BC Public Health Orders and one-site policy, we are excited to start reintegrating art and music therapy services for residents. With this step we are monitoring PPE closely to ensure our supply meets demand.
Family Visits
While we comply with provincial health orders regarding family visits, our Three Links team continues to do everything we can to apply technology and innovative site-solutions to maintain contact between residents and loved ones. We will continue to communicate regularly with our Family Advisory Committee and provide updates as the situation evolves.
Depending on provincial COVID 19 infection rates, Dr. Bonnie Henry has said revisions to the current rules may be coming in July. All agree the health and safety of residents, staff and essential contractors will continue to be our top priority.
Meanwhile, our provincial associations continue to work with the BC Health Ministry to facilitate safe family access if the rules change. Here is a link to a letter the BC Care Providers Association delivered to Dr. Bonnie Henry last week offering guidance and assistance regarding family visits.
Community Support
Our Three Links team continues to receive many meaningful gestures of community support during this time of crisis. It means so much to all of us. In addition to a video message from Health Minister Adrian Dix and a Global TV News feature on Three Links, we continue to post new messages on the special section we set up on our web-site. Click here to see for yourself.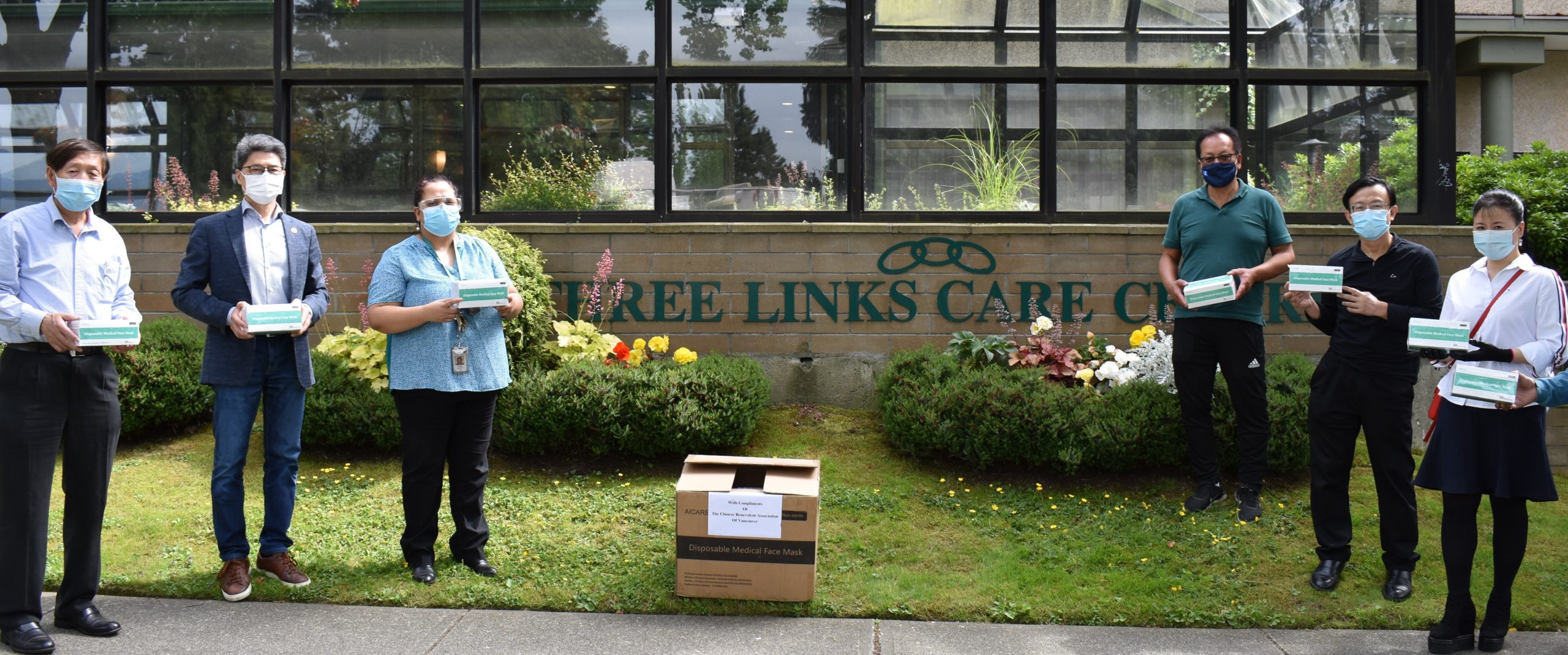 Check out the new videos and messages we have received, including:
Father's Day at Three Links
A special Thank You to all the Three Links staff for making Father's Day special for residents. In addition to an afternoon tea with coffee and yummy donuts, dads were treated to a special pre-recorded performance from one of our wonderful volunteers, Chris Lin. Chris recorded a similar performance for Mother's Day last month. Check out the video here.