Dear friends,
Further to previous notices and as promised, here is an update on our infection control efforts related to the current public health crisis and influenza season.
Thankfully, Three Links still does not have a confirmed case of COVID-19 but the measures we announced previously here, here, here and here remain in effect until further notice.
Community Support
We are continuing to receive a significant amount of community support from our Renfrew Collingwood neighbourhood – and beyond. This means a lot to us. Thank you!! Here are just a few examples:
A team member who wants to remain anonymous donated a case of much needed safety masks
The relative of a team member donated mask bands to relive the discomfort of wearing masks for prolonged periods. Her workmates from Accent Inns also sent a card with words of encouragement for the team.
Vandula Farms donated boxes of fresh produce and pot plants for team members to take home.
BC Housing has stated delivering meals for residents of Three Links Manor with mobility issues and having difficulty getting to the grocery store
Regular suppliers have donated nutrition supplements and healthy snacks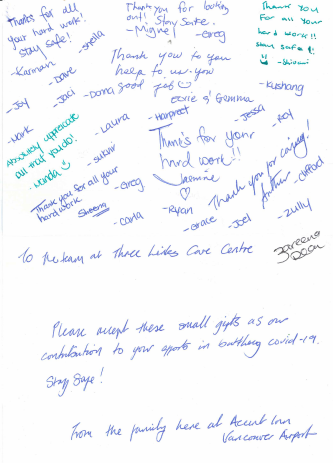 The BC Care Providers Association has also launched the#TellThemYouCare campaign to receive best wishes from family members and the general public. Feel free to share this link and post your thoughts.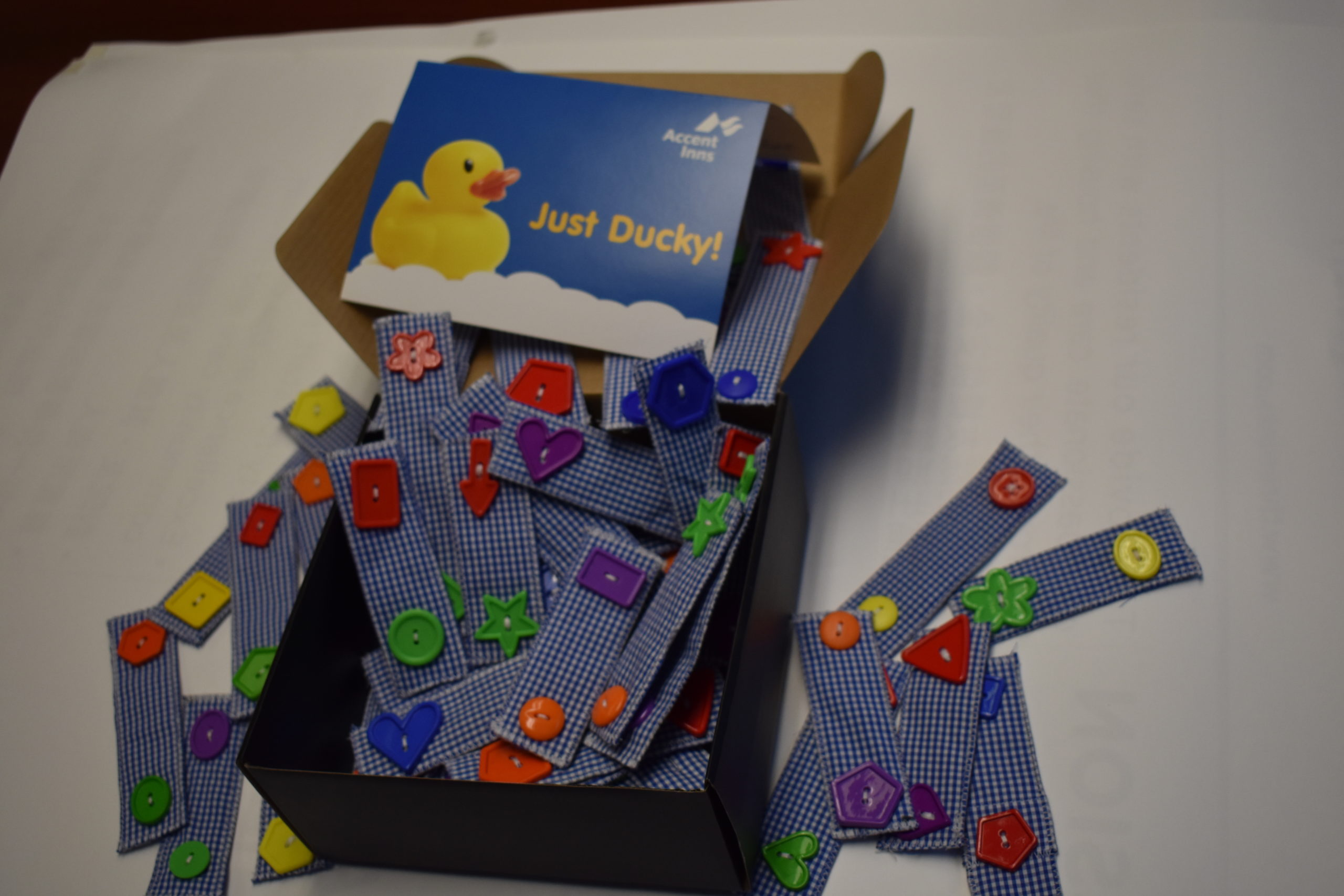 Staffing
We are continuing to follow Orders from the provincial and Vancouver medical health officers regarding staffing. So far we have been able to retain almost all our care staff with the new BC policy requiring all care staff to work at one location. We are expecting more information from the provincial government over the coming week.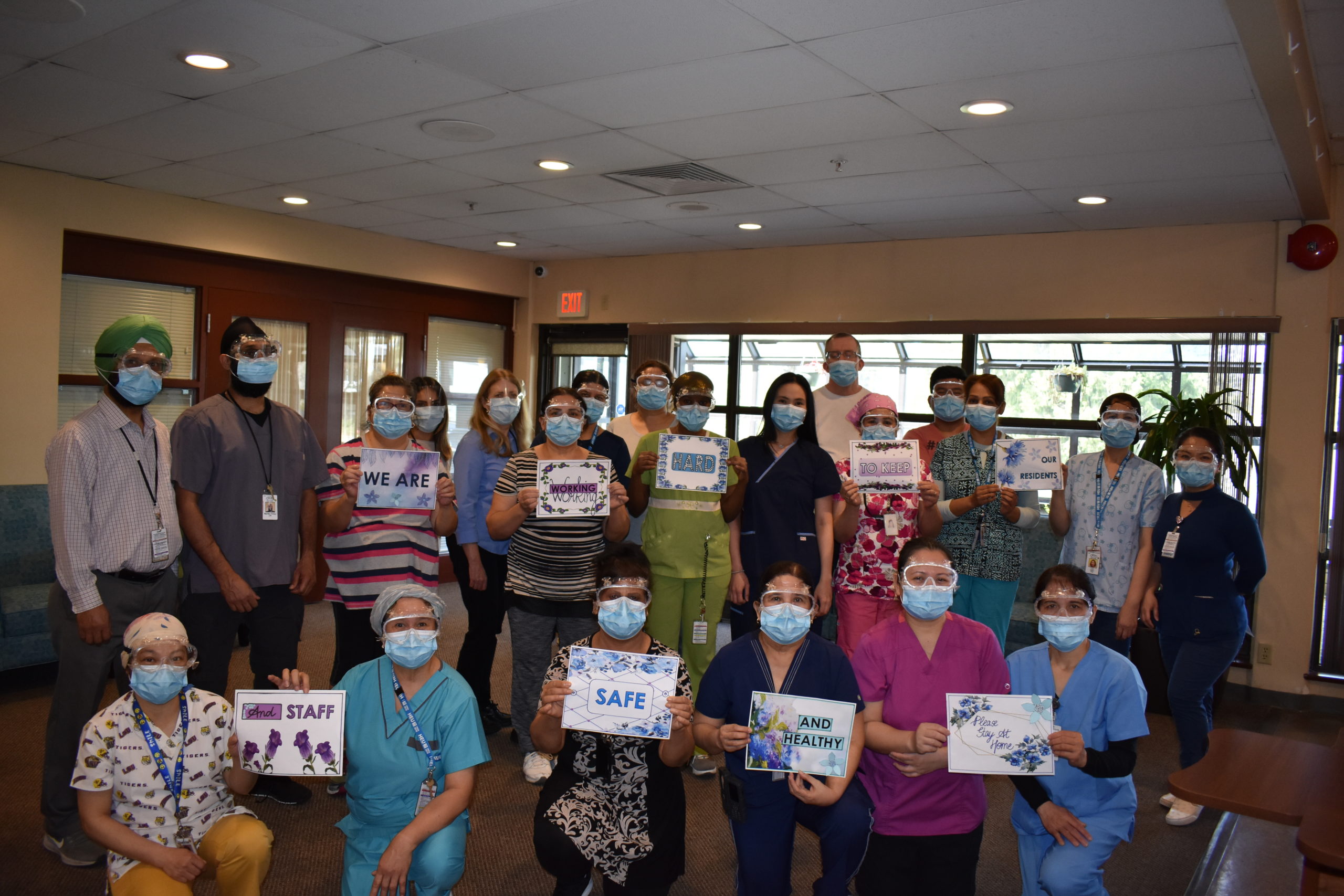 Connecting Families
Our recreation team, nurses, and expanded reception team continue to help connect families in new ways. Over the past two weeks, we have scheduled 20 family meetings via Facetime and 10 "patio visits." To arrange these visits and a Facetime session, families can contact us directly at 604.434.7211.
Communication
In response to the pandemic, our Leadership Team continues to hold daily briefings, participate in Health Authority teleconferences and practice outbreak protocols. We are providing weekly updates to our Board and Family Advisory Council. And, we are collaborating with Safe Care BC and the BC Care Providers Association which meet daily with the provincial health officials regarding the supply of personal protective equipment and other urgent challenges.
We will continue to keep you posted on our planning to protect the health and safety of residents, staff, contractors and volunteers. Thank you again for your ongoing patience and support. If you have questions, do not hesitate to contact us at (604) 434-7211.