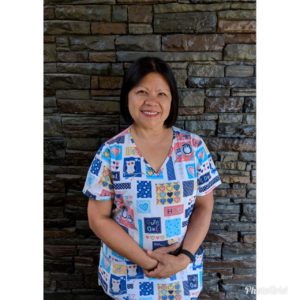 15 years is quite a milestone for anything; marriage, life, and especially a career. This year one of Three Links' important team members is celebrating just such an achievement, coming up on 15 years with our organization as a dietary aide. Marita Labrador didn't enter Three Links as a dietary aide; in fact, she began her role as a care aide after taking a care aide course in Winnipeg, and in fact, prior to this worked as a mid-wife in the Philippines! It was always the plan to work in a care setting, and her passion paid off. But due to a shift in the workforce, she made the switch to dietary aide after 14 years in the care setting, and after getting used to the new role she says she's never been happier. She and her colleagues serve a vital role, making sure the residents get the nutrients vital for their health, while paying close attention to their safety. Many of the residents have dietary restrictions due to physical or medical conditions, and it's crucial they adhere to dietary conditions for health and safety reasons. Marita is well aware of the critical position she holds, and derives great pride from her work.

Interestingly, (and unplanned, I'm told) Marita isn't the only one in her family that works with food, her daughters graduated from UBC studying food and nutrition science, and bringing home some very tasty experiment results (homemade wine, anyone?). 

Talking to Marita for this piece was slightly different, taking place over the phone. Normally, I would speak to staff members in person at the care home, but Marita is coming up on a week of holidays, and while she isn't planning any spectacular trips as of now, she let it slip that a trip to Hawaii might be on the books for her next vacation slot in October… (when the weather would be more suitable, anyways!). After 15 years, she definitely deserves it! Three Links would like to extend our sincere gratitude and congratulations on such an achievement, look out for our next staff recognition piece!