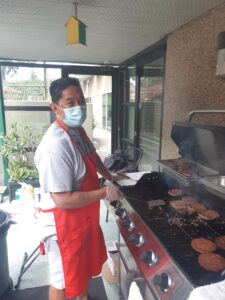 This week we saw the long anticipated return of the summer BBQ. After a hiatus of over 2 years we fired up the grill to celebrate two major milestones in Three Links history.
This year we are celebrating 40 years of serving vulnerable seniors in our community. In 1982 Three Links Care Society opened the Care Centre and also our independant seniors apartment building "The Manor."
We are also celebrating the one year anniversary of repaitriating our care aides, recreation and rehab teams. No longer contracted out these important team members are now fully integrated under the Three Links umbrella.
Thank you Jerry for cooking up some delicious burgers!