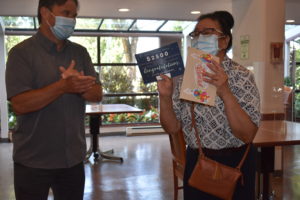 Yesterday Member of Parliament Don Davies dropped by to speak with our health care heroes and offer his support for the many challenges staff have faced during the last 18 months.
One outstanding care aide, who was nominated by her peers for her exceptional dedication, was the first this year to be awarded $2500 in our Air Miles Give Away program.
As part of our Wellness Program she wil be able to apply the cash value for a trip anywhere in the world, or to other wellness activities including home improvement, fuel, groceries and home gym equipment to name a few.
We want to thank Don Davies for taking the time to celebrate with us and  honour this inspirational care aide!