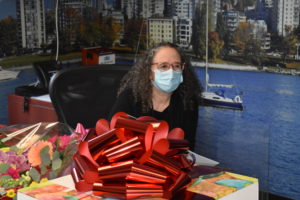 With mixed emotions the staff and residents of Three Links Care Centre want to thank Dr. Sylvia Ducceschi for her service to seniors over the past three decades. Earlier this year, Dr. Ducceschi announced plans to scale back her practice and spend more time with her family.
During a special event at the Care Centre staff presented Dr. Ducces­chi with a personal thank you card prepared by residents and other gifts from the staff.
Three Links Director of Care Faria Ali spoke about the significant impact Dr. Ducceschi has made in the lives of seniors during her 16 years of service to Three Links. Other team members thanked her for being such a positive role model that inspires other physicians to consider serving seniors in long term care.