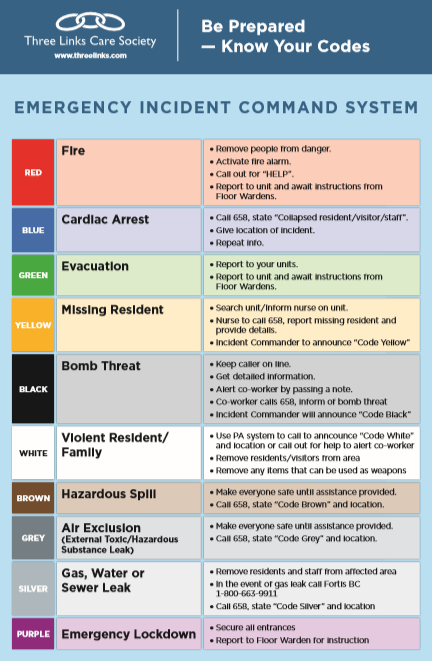 In its continuing effort to ensure the safety for residents and staff, Three Links conducted its annual Code Green fire drill this past July 18th, bringing together volunteers from both Three Links as well as Kiwassa Neighbourhood House to assist the staff in their exercise.
The nearly-dozen volunteers gathered at Three Links prior to the drill for pizzas and drinks, in-line with the Centre's customary hospitality. Afterwards, volunteers received a short briefing on their roles: after breaking into groups of two and three across the different areas of the centre, they would play the part of residents caught in the middle of an emergency evacuation.
As the drill commenced, volunteers observed some of the procedures staff were required to carry out, including marking the rooms of occupants already gathered for evacuation, and preparing unique rolling wheelchairs for the stairway. Some of the volunteers, acting as wheelchair-bound residents, were even secured onto these chairs and taken down the stairs.
Eventually all the volunteer "residents" were safely escorted out of the building, marking the successful end of the Code Green drill. Afterwards, staff encouraged volunteers to speak about their experience.
Though the drill had been largely successful, volunteers did express concerns about the inefficiency of the moving so many residents down the stairs with the special chair, considering the centre had only two to accommodate the whole resident population. Staff noted the concerns and looked forward to establishing a more efficient evacuation approach.
Volunteers finally gathered back inside Three Links to debrief as well as hear from the Kiwassa House volunteers that had generously donated their time to the drill.
Kiwassa Neighbourhood House, located along Hastings-Sunrise and Grandview-Woodlands, is 65-year-old organization dedicated to cultivating opportunities with people and partners to create a resilient and connected community. Youth Programs Coordinator Ryan Avola "appreciated the friendliness of the staff" and complimented Three Links on the "quiet and comfortable…space" offered to its residents.
Ryan also extended his invitation to all Three Links volunteers to come-by and visit Kiwassa House, either in seeking or supporting the opportunities they offer to the greater community.
The drill wrapped up with thanking volunteers from both organizations. Stay tuned to the newsletter and emails for even more upcoming events, or contact Kiwassa Neighbourhood House at 604 254 5401