This week was the premiere showing at the RIO theatre of our home movie entitled "Love & Unity: Three Links Pandemic Experience." The evening was a great success with over 100 people in attendance.  Health Minister Adrain Dix was also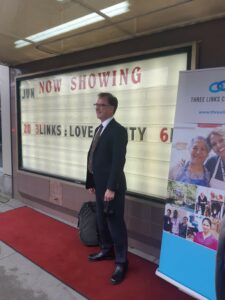 in attendance and spoke about the "exceptional" work done at Three Links to serve the vulnerable seniors population in our community.
This in house documentary interviews staff, residents and family members who experienced our serious outbreak that occured in 2020. This behind the scenes look examines the effects and lessons learned throughout this pandemic.
You can view a short trailer of the movie here.