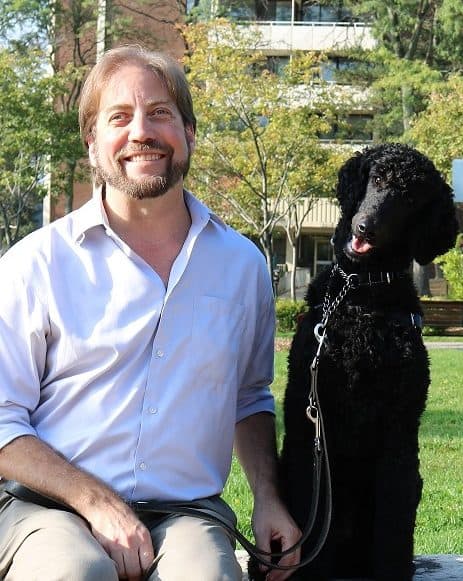 You might catch Three Links' newest team member daydreaming about playing fetch while he's helping to chair the next family advisory council meeting. As the guide dog for our social worker Gary Steeves, Gonzo will be taking on lot of new responsibilities, but he's still a puppy at heart.
Gary and Gonzo just returned from two weeks in Toronto where they met for the first time and worked together at Dog Guides Canada to learn the techniques they'll need to navigate the world together. You can read all about their adventures on Gary's blog.
Now that he's in Vancouver, Gonzo still has lots to learn. First, he'll need to bone up on his classic rock tunes so that he can get up to speed with Gary's band Rainshadow before next summer's festival season.
Next, he'll be learning about blind hockey when he accompanies Gary to weekly Vancouver Eclipse practices. He might eventually make it to the big times at the Paralympic Games if Gary succeeds in his bid to get blind hockey included as an official sport.
Gonzo will also soon be an expert at navigating care centre, as he helps to give tours to new and prospective Three Links residents and their families. Taxes, Canada Pension Plan, power of attorney, and Guaranteed Income Supplement will soon become part of his lexicon.
One of Gonzo's biggest jobs will be to become part of the welcoming and confidential space that Gary provides for residents, families, staff, and volunteers to talk about whatever is on their minds. He might be thinking about playing fetch, but he'll be keeping a professional demeanour while he's listening in on conversations about personal finances, mental health, and big life decisions.