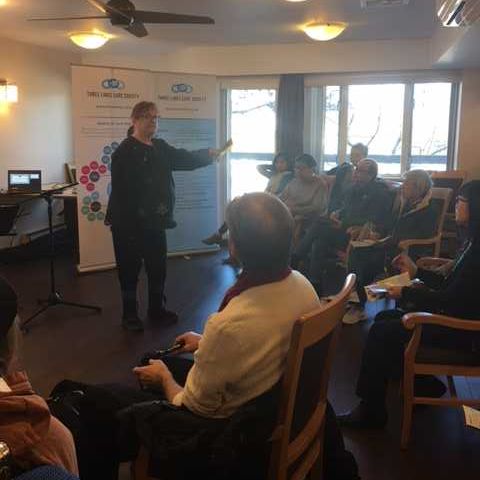 Earlier this month, The Renfrew-Collingwood community was treated to the third Open House in the Three Links Community Open House Series, hosted by Amber Webber of the Three Links Manor. Taking place at the Three Links Manor, situated close to the Three Links Care Centre and across from the Renfrew-Collingwood Senior Centre, this Open House focused on the topic of senior safety, isolation prevention, and ways to stay social during winter months. There was even a musical guest performance!
Starting off with an opening as attendees streamed in and partook in snacks and conversation, the Open House's first speaker was Sandra Medina. As coordinator of the Collingwood-Neighbourhood House Annex, she introduced senior programs available for the community members.
Following her was Susan Moore, the Regional Mentor of the Community Resource Network, discussing the very-real dangers of elder abuse. During her talk she urged seniors and those close to them to never hesitate in calling emergency services if they ever felt the fear of abuse upon them. As self-conscious as people can feel, even in danger, it's always better to be safe than sorry.
Director of the Renfrew Collingwood Seniors Centre Donna Clarke was up next. She introduced the membership aspect of her organization, where seniors can pay a $10 yearly membership for $2.50 frozen take away meals. On top of that, Tuesdays and Saturdays at the centre are drop-in days for social activities — ranging from exercise classes to quiet tea-and-cookie socials. Especially during the colder months, these socials can really get the community engaged and active.
Barbara Larman, a senior who has been a long-time member of the centre, was also there to speak about the activities and the services the centre provides!
Rounding off the speakers was Gary Steeves from the Three Links Care Centre. As a social worker involved with helping seniors and families enter residential care, he spoke about how families and residents can prepare and what they can expect.
Lastly, was a guest performance by Joseph Lou – folk artist and poet. Other attendees included members from the Canadian National Institute for the Blind to introduce the organization and talk to seniors.
With the end of the third and most well attended Open House thus far, it is proof that word is getting out that the Community Open House series provides useful information to seniors and their loved ones. The Centre looks to warmer weathers, new speakers and new topics for the summer installment of the Open House Series.