May was shaping up to be a busy month at Three Links! Particularly the week of May 7th, with Nurse's week, emergency preparedness week, and occupational health & safety week all scheduled for that particular time frame. In light of the time restrictions, our organization opted to extend the festivities over the entire month, rolling the events into our "safety month!" Over the entire month of May, a number of staff events were held to highlight the safety threats inherent at a care home, and provide opportunities to touch up on the procedures for dealing with these problems should they arise, and of course, our wonderful team of nurses was recognized in a series of events as well!
Kicking off the month of festivities, a team building event on May 2nd introduced the staff to the nursing team, with fun games and a blind quiz testing the staff on their knowledge of our nurse's profiles. Winners were compensated quite handily, receiving healthy snacks and delicious chocolates for their troubles. Congratulations to Miranda for her team recognition skills! Alice, a member of the care aid team was rewarded with a McDonald's gift card for the bonus question "What is Three Links new Mission Statement?" Also that week we had our memory games, testing our staffs recall abilities, and mimicking the recall tests Three Links performs with the residents. Staff were shown a series of items and asked to recall as many as they could after a short interval. Once again, spoils were grand, Usha and Agnes, our unit clerk and nurse were both rewarded for their fantastic memory!
Next on the menu, the Safety Race consisting of various booths highlighting the month's themes, emergency preparedness, occupational safety, and infection control. Our team was split into three groups, asked to name their team after their favorite fruit or vegetable, and make their way through a series of questions, demonstrations, and code recall, testing their abilities not only to learn the material at each booth, but to work as a team to overcome the challenges. The first team to complete the course would win. Fun was to be had by all, and the safety suit dress up provided plenty of opportunity for silly dress up photo-ops! Eventually the Tomatoes emerged victorious, congratulations to everyone and thanks for making the games such a success!
Aside from these games designed not only for fun, but also to help educate and train our staff to be able to more effectively care for the residents and respond to potential challenges, a number of events were help specifically to thank our team for their hard work and dedication. May 11th saw the celebratory lunch and dinner of Chinese food for the staff, and recognition of nurse's week at the event. Take out was enjoyed, and taken home for leftovers – yum! The month ended with a series of Tai Chi classes held for our team, taught by our very own Master Victor who normally holds classes for the residents, but adapted his teachings for a younger group! May 23rd and 30th saw our team cleanse their spirits, and enjoy the soothing movements of Tai Chi as a thank you from Three Links.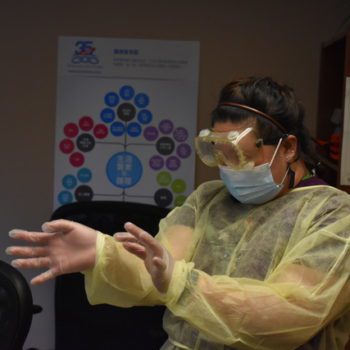 Looking back, we can state without a doubt that Three Links' safety month was a resounding success, and would like to extend our sincerest gratitude to the staff, both for their continued hard work, and their participation in our events. Look forward to more events to come in the following months!