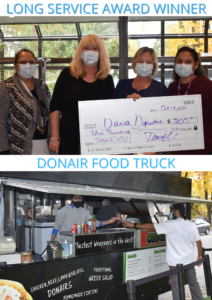 This week we celebrated our amazing care aide team and one very special long serving team member.
Dana started her journey with Three Links 30 years ago first as a care aide, then transferring over to support services where she has been a diligent worker for over 2 decades.
We are excited to have Dana recently return back to her original care aide position where her strong attention to detail and work ethic result in great care for our residents.
Monday was Health Care Assistant Day across BC, so our Three Links Wellness Committee organized a special food truck so our team could take time our from their busy day to enjoy some of Vancouver's finest donairs!