Accreditation Canada Spotlight!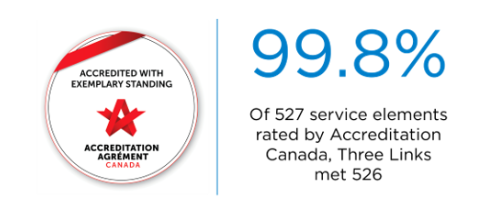 Accreditation Canada is a not-for-profit organization dedicated to working with patients, policy makers and the public to improve the quality of health and social services for all. Over 1,000 health and social service organizations and 7,000 sites in Canada and around the world have been accredited, leading to safer, quality health care. This year, our Three Links Care Society received Exemplary Standing with Accreditation Canada – the highest standard available.
Congratulations to the entire Three Links team for this significant accomplishment. We can all be proud of this success together.